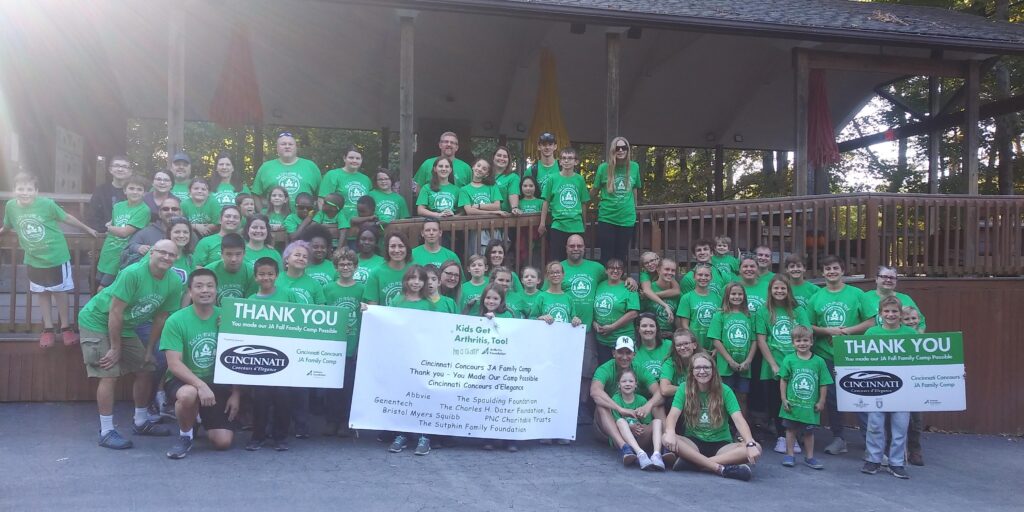 For over 40 years, Cincinnati Concours d'Elegance has brought together automotive enthusiasts, car owners, friends, and family to celebrate and connect with one another over a shared passion for automotive excellence. This passion has fueled a good cause: raising over $1.5 million to benefit the Juvenile Arthritis and the Arthritis Foundation.
The Cincinnati Concours d'Elegance Foundation would like to cordially invite you to support us this year by becoming a Patron-for-a Cure. Our Patron-for-a-Cure Program pairs a premier weekend tickets package with a donation to help make a difference in the lives of local area children dealing with the challenges of Juvenile Arthritis.
To inquire or join as a Patron, contact the Cincinnati Concours d'Elegance Foundation office at 513-321-1951.
Platinum Level $2,500
4 admissions to Friday's Fundraiser Party
1 vehicle admission to Saturday's Countryside Tour
8 admissions to Saturday's Hangar Party
8 tickets to Sunday's Concours d'Elegance
8 admissions to Sunday's Brunch at the Pavilion
VIP Parking at Hangar Party and Sunday car show
Recognition in the Show Program and on the Website
Limited Edition Concours Yearbook
Donation portion: $1,304
Gold Level $2,000
2 admissions to Friday's Fundraiser Party
1 vehicle admission to Saturday's Countryside Tour
6 admissions to Saturday's Hangar Party
6 tickets to Sunday's Concours d'Elegance
6 admissions to Sunday's Brunch at the Pavilion
VIP Parking at Hangar Party and Sunday car show
Recognition in the Show Program and on the Website
Limited Edition Concours Yearbook
Donation portion: $1,128
Silver Level $1,500
1 vehicle admission to Saturday's Countryside Tour
4 admissions to Saturday's Hangar Party
4 tickets to Sunday's Concours d'Elegance
4 admissions to Sunday's Brunch at the Pavilion
VIP Parking at Hangar Party and Sunday car show
Donation portion: $1002
Bronze Level $850
1 vehicle admission to Saturday's Countryside Tour
2 admissions to Saturday's Hangar Party
2 tickets to Sunday's Concours d'Elegance
2 admissions to Sunday's Brunch at the Pavilion
VIP Parking at Hangar Party and Sunday car show
Donation portion: $596
Recognizing Our 2019 Participating Patrons for a Cure
Platinum Level
Larry & Sandy Brueshaber
George & Jeane Elliott
Eyink Leahy Group, Merrill Lynch Wealth Management
Fort Washington Investment Advisors
Ed Hermes
Carl & Diane Iseman
David & Susan Sheehy
Stock Yards Bank & Trust
Silver Level
Brenda B Benzar
Joseph & Margie Cassini
Clayt & Meredythe Daley
Evelyn & Gary Kirschner
Steve & Renee Locker
Walter L. Rye
Larry Schumacher
Ben & Judy Wells
Bronze Level
Mark & Missy Fisk
Lane Motor Museum
Dr. Arnold & Bonnie Penix
Dr. Steven & Carol Reubel
Bill & Gayle Sherman