Mid-Century Modern: An Intro
Mid-Century Modern: What Does It Mean—and Why Are Cars From This Era So Special?
In an era defined by the end of World War II, new innovations in materials and design brought fresh life to consumer products used by the masses. Hailed today as Mid-Century Modern, or MCM, products such as furniture, appliances, airplanes and cars were reinvented using the new technology and processes that were emerging in design and production.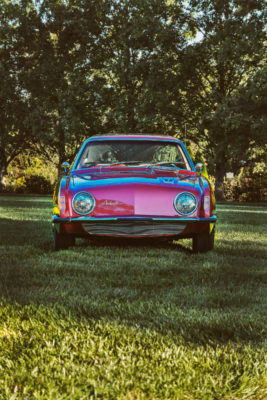 The MCM movement encompassed two seemingly opposite approaches: the first used industrial materials, such as steel, plywood and plastic laminates, and reveled in synthetic colors and mass production. The other side of MCM took its cues from Scandinavian design that treasured handmade items and used natural materials. In both cases, however, the common denominators are sleek lines, organic forms, and a celebration of the materials being used—plastic looks like plastic rather than wood, aluminum and steel are polished to a sheen rather than being covered with upholstery, and so on.
In the early years of this period, designers had license to take chances and risks to increase sales, which had been almost nonexistent due to the total commitment to the war effort by the industrial segment. Patriotic Americans had been saving and conserving at all cost during the war years, for the sake of the country. When the flood gates opened, consumers were hungry and ready for something new and different.
Designers and crafts people were the first superstars of this era, with well-known companies and small startups creating products the likes of which this country had never seen. Ray and Charles Eames' iconic furniture designs, such as the famous 670 lounge chair for Herman Miller, are all considered classics—with some still in production today. The designer famous for the shape of the Coke bottle, Raymond Loewy, also designed the Starliner, Hawk and Avanti models for the Studebaker Car Company. With Bill Mitchell at General Motors, the Chevrolet Sting Ray, Cadillac Eldorado and Buick Skylark were huge hits.
In cars, you'll recognize the Mid-Century Modern style in big, swaggering American cars generously outfitted in chrome, fins, and pastel colors. Moving into the 60s, the aesthetic is influenced by European cars and becomes sleeker and more compact, with low-profile cabins and metallic paints.
The fascination with Mid-Century Modern continues today. The collection of exceptional automobiles at the 2019 Concours d'Elegance will showcase how America, with its power, innovation and artistry, was on the cutting edge of this unique styling period.